Access your unit's system performance from anywhere. Offering you peace of mind, Virtual-Tech® Plus alerts you when an error occurs. With on-line data-logging and trending, equipment adjustments can be made within minutes to ensure your pool facility is kept under optimal control at all times. If a repair is needed, Virtual-Tech® Plus saves the cost of an initial costly service technician inspection.
Virtual-Tech® Plus is standard for all ClimatePak® VHR models.
Virtual-Tech® Plus Features: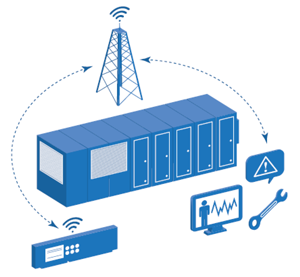 Wireless – no more trouble with wiring, networking or firewall issues Virtual-Tech® Plus wireless diagram
No Install Required – configured at the factory, only requires unit power to start transmission
Instant Access – available anywhere you have internet on any device (mobile, tablet, phone)
Remote Diagnostics – troubleshoot an issue remotely before having to send a service tech for an extra inspection visit
Data Trending – choose up to 20 vital system parameters (more than 500 available points) to track over time
Efficient Operation – see real-time energy savings from your equipment choice
Building Automation – works in parallel with our other BAS options (LonWorks®, Modbus®, and BACnet)
1st Year Factory Monitoring – for the first year in operation, PoolPak® factory monitoring is standard
ClimatePak® VHR with Virtual-Tech® Plus is your best choice for maintaining ideal facility operation at all times.