Our ongoing WebSentry® monitoring service redefines the concept of factory service and support by remotely tracking all the critical functions of your dehumidifier 24/7 — in real time. WebSentry® delivers unparalleled value and peak performance for the lifetime of your dehumidifier and is included with every unit we build!
Stored securely on our central server, all daily performance metrics of your dehumidifier are captured and analyzed using complex computer algorithms. Should anomalies of any nature arise, the system will automatically generate notifications by email to specified emergency contacts, including your service and maintenance personnel. A PoolPak® factory-trained technician can also be contacted for additional support.
WebSentry® is PoolPak®'s revolutionary approach to ensuring peak dehumidifier performance and the absolute lowest overall cost of ownership in the industry. It's also one of the reasons PoolPak® is the number one choice for discriminating engineers, contractors, owners and service technicians.
Through a simple Ethernet connection (Wi-Fi and cellular network options also available), this incredible innovation allows factory engineers to remotely monitor, analyze, fine-tune or troubleshoot over 100 critical dehumidifier functions via the Internet to deliver truly exceptional product performance and reliability.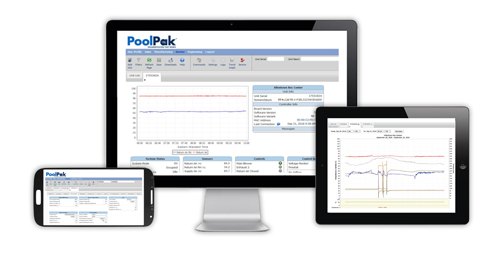 Real peace of mind – 24/7 dehumidifier monitoring for life

Robust online reporting of real-time performance data

A standard feature on every PoolPak® unit

Simple plug and play Ethernet connection

Optional WiFi and cellular connections available

Works in parallel with BACnet and Modbus

Secure access and control via computer, tablet or smart phone

Historical operating data logs on PoolPak® servers

Remote access and control for authorized service personnel

Connection activates premium extended 1st year labor warranty.